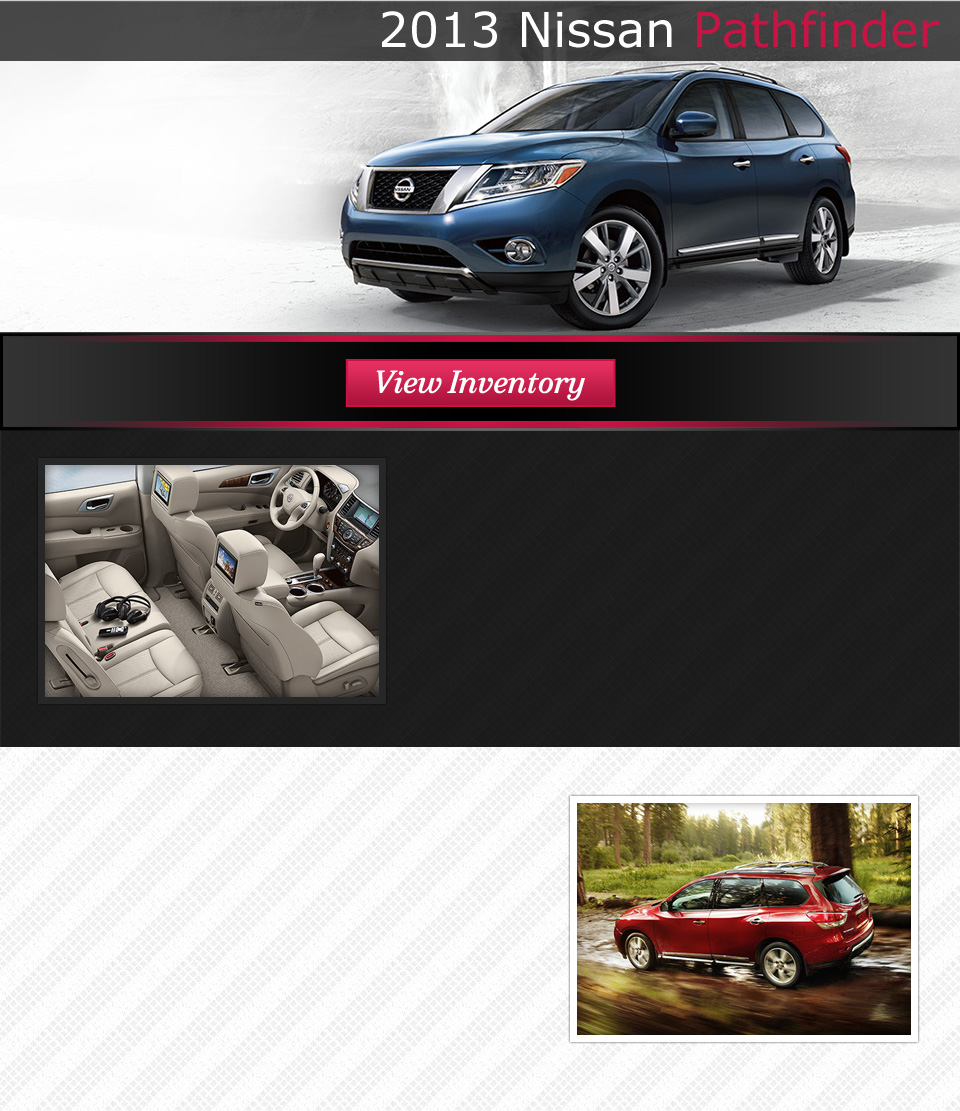 2013 Nissan Pathfinder in San Antonio TX
The 2013 Nissan Pathfinder in San Antonio TX was completely redesigned to deliver a performance more intelligent than any of its former models'. Every part of the SUV's performance has been optimized for a smoother, more efficient, more powerful drive. Its fuel economy has been improved by over 30 percent with the help of a more aerodynamic exterior, lighter body frame and drivetrain, and the all-new Xtronic CVT. All of that paired with the 3.5-liter V6 engine allows the Pathfinder to create its best-in-class 26 mpg hwy. On top of everything else, the Pathfinder still maintains 260 horsepower, 240 lb-ft of torque and a towing capacity of up to 5,000 pounds.

No matter what the driver's next adventure will be, the 2013 Nissan Pathfinder in San Antonio TX has his or her back covered. Hitch up the trailer and pile in with a few loved ones for the drive of a lifetime that you can trust at every turn.


Pick Your Performance in the New Nissan in San Antonio TX
One of the most unique elements of the 2013 Nissan Pathfinder in San Antonio TX is its ability to give drivers the choice in just about everything. The Pathfinder is the only SUV in its class to offer a 2WD, 4WD, and Auto driving mode - all in the same car. Depending on the terrain or weather condition, drivers can choose the mode that works best for them at any given time.
Best-in-Class Styling & Comfort
The 2013 Nissan Pathfinder in San Antonio TX is well-dressed from the exterior to the interior. Inside the vehicle is a 7-seater cabin with best-in-class front head- and legroom. Standard class-exclusive third-row seats recline for additional comfort, and each row is designed with leather detailing and wood trim. Each zone houses its own entertainment system with a screen and access to several entertainment features. Also exclusive to the Pathfinder is its EZ Flex seating system, which allows the 2nd row to adjust 5.5 inches forward and backward to make getting into the back row easier and more efficient.

When the third row is stowed, the Pathfinder gains 47 cubic feet of cargo room. When the second row is also dropped, the SUV receives 79.8 cubic feet of available storage space. Comfort and versatility are second nature to the 2013 Nissan Pathfinder.

Ingram Park Nissan proudly offers the 2013 Nissan Pathfinder in San Antonio TX in its inventory of new Nissan in San Antonio. Give yourself the opportunity to experience the excellence that is the Nissan Pathfinder today.

At Ingram Park Nissan we are able to provide our drivers with experts on their dream cars. To answer any of your questions, contact one of our Pathfinder experts today.