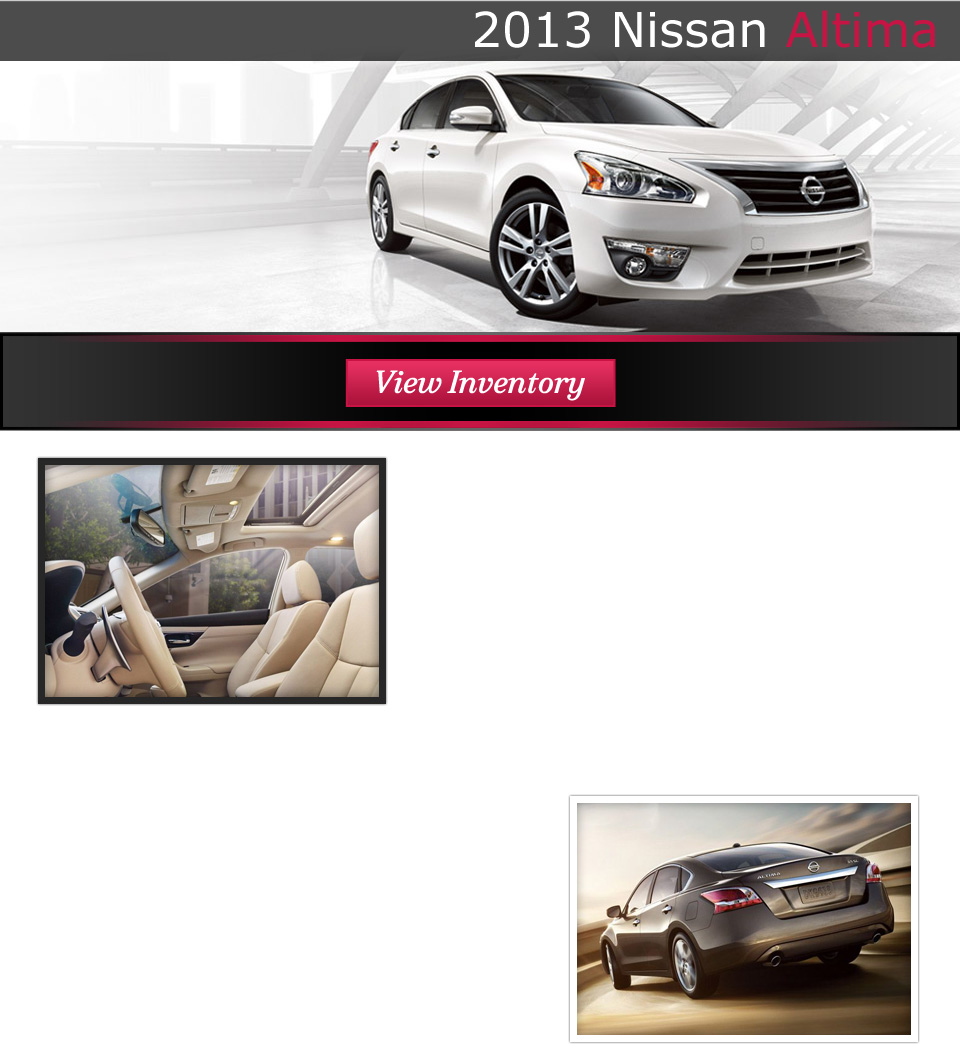 2013 Nissan Altima in San Antonio TX
The 2013 Nissan Altima in San Antonio TX is award-winning in every meaning of the word. From its 270-horsepower V6 engine to its best-in-class fuel economy of 38 mpg hwy, the Altima delivers a performance so stunning its competitors retire to their garages. With the ability to travel for longer without compromising efficiency or power, the Altima makes multi-tasking look like a breeze. The vehicle is built with the latest Xtronic CVT for quicker response time at any speed. Active understeer control also ensures each turn and maneuver is as stable and smooth as it should be.

Drivers can experience more of what they love about driving with the Altima's grace and guts. There is no turn too sharp and no distance too far for the 2013 Nissan Altima in San Antonio TX.


Functional Innovation in the New Nissan in San Antonio TX
Everything from the exterior design to the interior detailing is innovative and functional. The automaker researched and pulled all the stops to ensure drivers received maximum support and comfort on the road. The Altima's seats are designed after the zero-gravity seats found at NASA. Drivers will not only feel more comfortable on the road, they'll also feel more alert on long drives.
Intelligence Inside & Out
Everything about the all-new Altima is designed with a purpose. The dash is equipped with tools, resources, and entertainment features to make each drive as efficient and informative as possible. Available with turn-by-turn navigation, drivers will never have to question if they are headed down the right path, at least not when it comes to their Altima. The Advanced Drive-Assist Display also gives drivers access to traffic updates, imminent weather conditions, and new to the Altima is the available Hands-Free Text Messaging Assistant. Not only can drivers receive text messages at the touch of a button, they can also use voice-recognition to send responses to safely stay connected with loved ones and colleagues.

The all-new 2013 Nissan Altima in San Antonio TX is offered at Ingram Park Nissan. Get your hands on the Altima and experience why this is the most innovative Nissan yet.

At Ingram Park Nissan we are home to experts knowledgeable of the 2013 Nissan Altima in San Antonio. Get all of your questions answered by talking to our talented specialists today.